A Motorcycle Journey Across Europe Inspires Innovative Software Solutions by ClickMe Smart Solutions
ClickMe Smart Solutions was founded by Gergő Vasas, who, inspired by a motorcycle tour around Europe, recognized the need for a solution that enables people to connect and share information across language barriers, leading to the development of their innovative platform
ClickMe Smart Solutions, a leading provider of digital marketing and data-sharing solutions, traces its origins back to a transformative motorcycle journey across Europe. The 1.5-year adventure through 42 countries led to the development of an innovative software platform designed to connect people and facilitate information sharing across language barriers.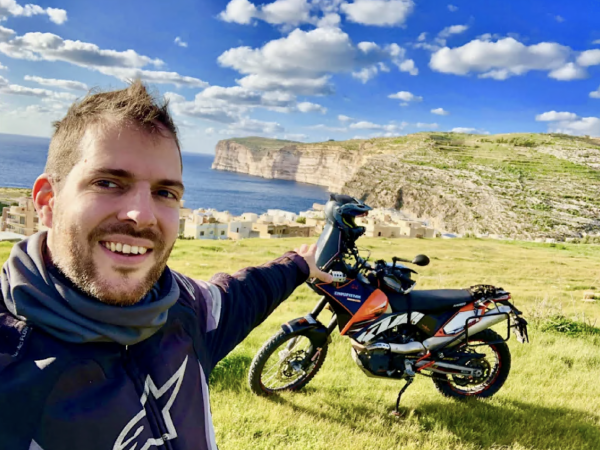 Founder Gergő Vasas embarked on the motorcycle tour with a desire to find peace and rejuvenation in his life. Starting in Austria, he made the decision to give up his possessions and set out on a journey that was initially meant to last only a few weeks but extended to six months, then a year, and eventually another half year. His travels were driven by the profound connections he made with people along the way, transcending language differences and fostering lasting friendships.
From Malta to Norway, Turkey to Portugal, Vasas immersed himself in the diverse cultures of Europe, receiving advice from locals, staying in their homes, and learning about unique places. Throughout his journey, he prioritized environmental sustainability and left his surroundings in a better condition than when he arrived.
The unexpected interruption of the journey due to the COVID-19 pandemic provided Vasas with an opportunity to reflect on his experiences and develop a vision for facilitating seamless communication and information sharing among people, irrespective of language barriers. This vision materialized in ClickMe Smart Solutions, a brand that offers professional solutions in digital marketing and data sharing across three distinct areas.
ClickMe Smart Solutions' innovative software enables enhanced guest experiences at accommodations, facilitates faster and more positive reviews for restaurants and street food vendors on platforms like Google Reviews and TripAdvisor, improves the identification of lost pets, and serves as a valuable tool for creating digital business cards that can be easily saved in phonebooks using NFC Cards or QR Codes.
Gergő Vasas, a former medical engineer, has transformed his journey into a remarkable achievement. His software platform, operating in 11 languages, provides secure, simple, stylish, and environmentally friendly data-sharing solutions.
Reflecting on his journey, Vasas noted that the question he often encountered—"Where can I reach you?"—inspired him to create a solution that overcomes the limitations of traditional communication methods. The need was even more crucial considering the question itself arrived in circumstances where there was no chance to write or type.
As ClickMe Smart Solutions continues to evolve, it remains committed to revolutionizing the way people connect and share information, breaking down language barriers, and fostering meaningful connections.
To learn more about ClickMe Smart Solutions and its range of innovative digital marketing and data-sharing solutions, visit http://clcme.eu/.
About ClickMe Smart Solutions
ClickMe Smart Solutions leads the way in digital marketing and data-sharing solutions. Founded by Gergő Vasas, the company focuses on enabling smooth communication and information sharing across language barriers. Their innovative services enhance guest experiences, improve online reviews, and ensure secure data sharing.
Media Contact
Company Name: ClickMe Smart Solutions
Contact Person: Gergo Vasas
Email: Send Email
Phone: +4367761271047
Country: Austria
Website: http://clcme.eu/