Trucking42: The Solution to Keep Business Moving Forward
Remote truck dispatch services are becoming very popular for its cost-efficient way to have skilled truck dispatchers working exclusively for logistics business owners
Trucking 42, a Miami-based truck dispatching company, is dedicated to keeping businesses in the logistics industry moving smoothly. With a focus on efficient and reliable dispatching services, Trucking 42 understands the vital role that truck drivers and logistics business owners play in society and the economy, and aims to provide top-quality support to ensure their success.
Operating nationwide, Trucking 42 offers its truck dispatch services to trucking companies across the country. The company emphasizes swift and efficient truck dispatching, delivered by licensed professionals who prioritize quick turnaround times and real-time communication. By laying a solid foundation for timely job completion, the team at Trucking 42 minimizes frustrations and helps trucking businesses get on the road faster.
Client satisfaction is a key priority for Trucking 42. The company recognizes that meeting and exceeding client expectations regarding delivery speed and quality is essential for sustained success in the trucking industry. By partnering with Trucking 42, businesses can establish a reputation for excellent service, leading to happy and satisfied clients.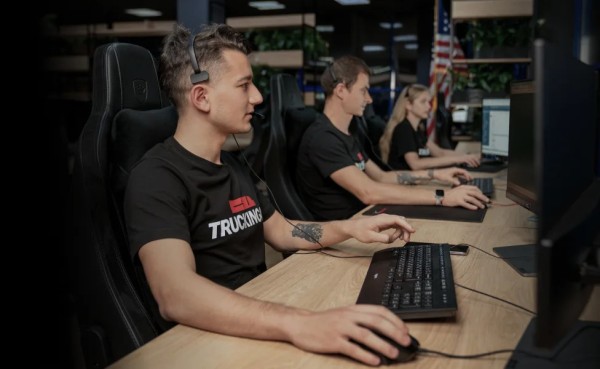 Reliable dispatching is crucial for maintaining a steady revenue stream. Trucking 42 services ensure that businesses can count on dependable jobs, resulting in a consistent flow of income. This reliability empowers trucking companies to grow and expand their operations with ease, as they can accurately gauge demand for their services and plan for scaling and development in both the short and long term. Trucking 42 helps identify untapped opportunities and new areas for business growth.
The dispatching process often poses administrative challenges that can interfere with the core driving and delivery aspects of a business. However, Trucking 42 streamlines the dispatching process, minimizing stress and anxiety for truck drivers and logistics business owners. Their hands-off, hassle-free approach allows clients to concentrate on providing excellent service to their customers.
Trucking 42 recognizes that each business has unique requirements. With personalized trucking dispatch services, the company takes the time to understand the specific needs of its clients and tailors its support accordingly. This individualized approach ensures that trucking businesses receive dispatching services that align with their distinct operations.
Transparency and affordability are paramount at Trucking 42. The company is committed to assisting its clients and their businesses, which is why it offers pricing that is both transparent and customized to meet their needs. With upfront pricing, trucking businesses can confidently plan their operations without concerns about unexpected costs.
Trucking 42 is dedicated to supporting truck drivers and logistics business owners in achieving logistics success like dispatch for truckers. With their efficient and reliable dispatching services, the company aims to enable businesses to thrive in the competitive trucking industry. By providing personalized support, transparent pricing, and a hassle-free dispatching process, Trucking 42 ensures that its clients can focus on delivering exceptional service while maintaining a steady and profitable operation.
Media Contact
Company Name: Trucking 42
Contact Person: Alex Vay
Email: Send Email
Phone: +1(321)-329-8142
Address:1111 Brickel Ave 1550
City: Miami
State: Florida
Country: United States
Website: trucking42.com