Ashley Paul Shares the Stage with Natalie Imbruglia at LeeStock Music Festival 2023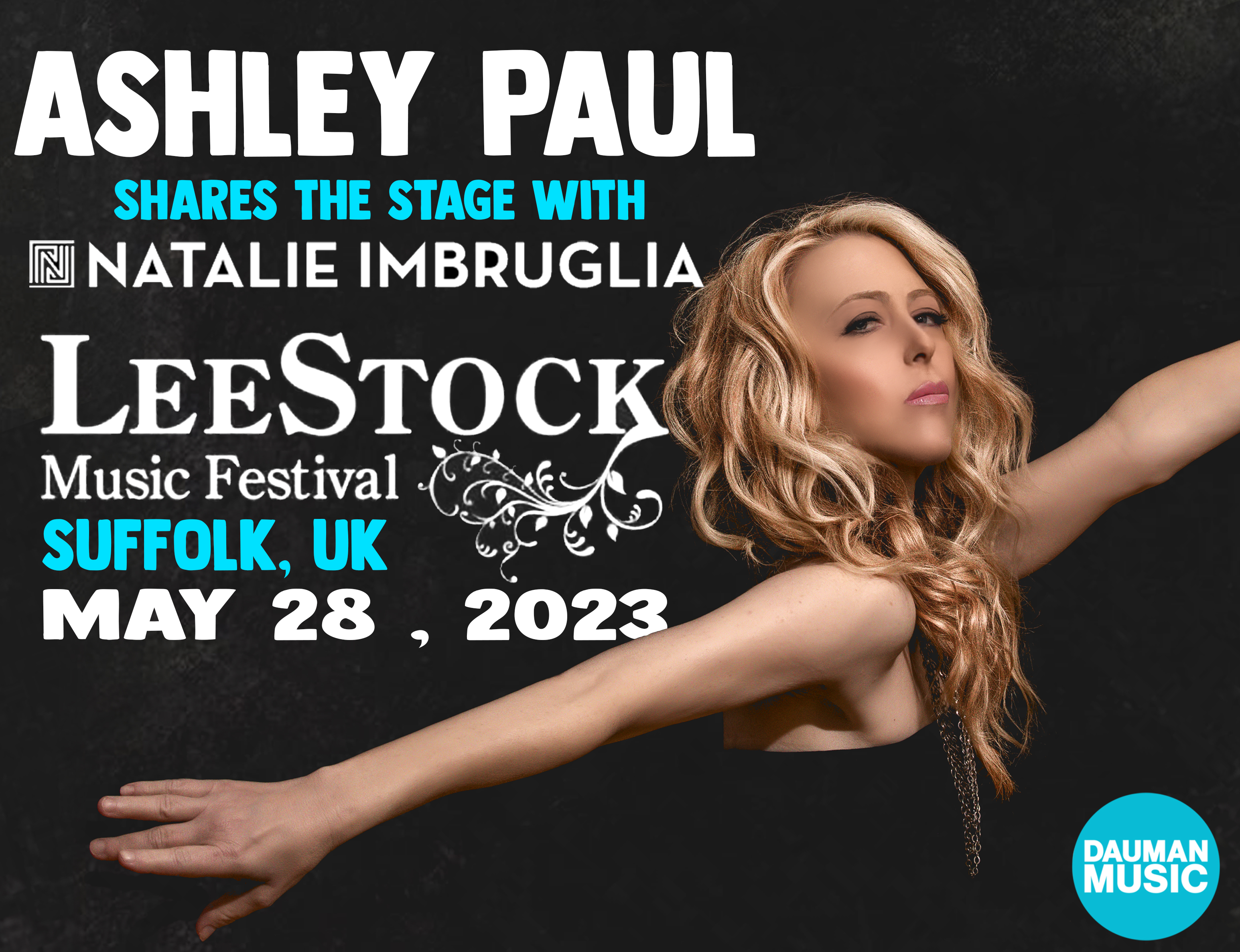 LeeStock Music Festival goers can look forward to two full days of live music on May 27th and 28th 2023. The All Star lineup includes: Ashley Paul, Natalie Imbruglia, Black Grape, Katrina, The Super Naturals, Finley Quaye,Chunky Ate a Bee, Dici, and more! Thousands of visitors will flock to the hallfor the annual festival held in memory of Sudbury musician Lee Dunford, who died from cancer in 2006.
Fans are highly anticipating seeing international singer, songwriter and performer Ashley Paul hit the stage on Sunday the 28th of May. "I am so excited to be welcomed to The LeeStock Music Festival in gorgeous Suffolk UK, amongst such talented artists." Said Ashley, "I can't wait to perform my new song Love Light Me Up for the audience, it's the perfect way to start my2023 summer tour, in the UK."
LeeStock is a charity based Music Festival held at Melford Hall in Suffolk. All proceeds donated to the Willow Foundation and other local causes.
About Ashley Paul:
Ashley Paul's music has been described as a masterpiece by critics and fans alike. Ashley Paul's talent and creativity have not gone unnoticed in the music industry. She has gained a reputation as a skilled musician, composer, and producer, with an ear for blending different genres to create something unique and fresh. Her latest release, "Love Light Me Up," is a testament to her skill and artistic vision.One of the most impressive things about Ashley Paul is her ability to redefine genres and create something entirely new. "Big Band House" is a genre that she helped define, and it has taken the music world by storm.
By incorporating elements of big band music with modern house beats, Paul has created a sound that is both classic and modern, appealing to fans of all ages and tastes. Ashley Paul is working with some of the best in the industry, collaborating with Gemini Muziqu, Jeff Franzel and Alex Forbes to create tracks that are both socially and emotionally impactful. The dance version of "Love Light Me Up" is a track that is not only great to dance to but also emotionally resonant, with a message that inspires listeners to embrace their inner light and let it shine.
For more information on Ashley Paul visit:
Instagram: https://www.instagram.com/official_ashley_paul/
Facebook: https://www.facebook.com/OfficialAshleyPaul/
Media Contact
Company Name: ICT
Contact Person: HD
Email: Send Email
Phone: 3235134804
City: Los Angeles
Country: United States
Website: www.iconnectyou.today