Raymond Bolton's Folder Recognized as a Finalist in International Book Contest
Folder is recognized for its outstanding writing, design and overall market appeal out of thousands of books submitted into the Book Excellence Awards.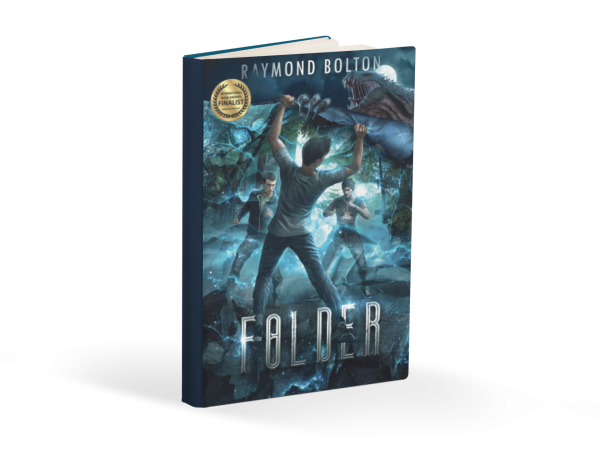 Folder is a groundbreaking work of science fiction. An expansive journey across dimensions, the book offers an exciting and fresh contribution to the growing trend of interdimensional science fiction. Folder was named a Finalist in the Science Fiction category of the Book Excellence Awards. The Book Excellence Awards is an international book awards competition dedicated to recognizing both independent and traditionally published authors and publishers for excellence in writing, design and overall market appeal. Previous Winners and Finalists of the Book Excellence Awards have been New York Times' best-sellers, spoken at the United Nations and TEDx, and have had their books optioned by movie studios.
"Folder is the story of an average young man who, when faced with terrifying situations, remembers the things he values most in order to survive," says Raymond Bolton. A multi-award-winning author, Bolton bridges the gap between science and gripping, visionary fiction to create thought-provoking works that push the boundaries of creativity, fantasy and believability. With Folder, his goal was to create a realistic hero that readers could relate to and be inspired by, showing that if you face challenges with confidence, you can accomplish more than you ever thought possible. "A true hero is not measured by incredible abilities, but by overcoming obstacles that seem insurmountable despite their limitations. I hope the book will inspire readers to rise above themselves when the need arises."
When an automobile accident leaves college freshman Eric Folder stricken with a concussion, he discovers he has developed remarkable abilities. As he's being attacked, unable to defend himself, Eric finds himself accidentally traveling into an alternate universe to escape danger. While, at first, it seems as though his luck has finally changed for the better, Eric soon learns that trouble is determined to follow him no matter what world he is in. He encounters several precarious situations and, each time, leans on his new power to find safety; but, with each new reality Eric travels to, the more bizarre his encounters become. He meets new versions of his friends, whose intentions change from dimension to dimension, and tries to find his way back home; but home keeps getting further and further away, and the reality of each new dimension is more and more divergent from his own.
Folder has received positive reviews from well-renowned literary organizations, authors, and reviewers around the world. Anthony Dobranski, author of The Demon in Business Class writes, "A big, engaging ride across our infinite possibilities – and our choice to be heroes." In addition, D. J. Butler, author of the Witchy Eye writes, "A wild young-adult alternate-worlds adventure that will leave you guessing right up to the end! Fans of Philip Pullman's His Dark Materials will love this!"
Folder is a truly original narrative with a deeply intriguing premise. When it comes to stories that literally offer an infinite number of possibilities, it can be difficult to land on an unfolding of events that works just right; but Bolton pulls it off and pulls it off well. Available for sale on Amazon, Barnes & Noble, Kobo and Nook, fans of science fiction and interdimensional travel are encouraged to purchase their copy today: https://books2read.com/u/bOX6E0
About the Author
Raymond Bolton lives near Portland, Oregon with his wife, Toni, and their cats, Max and April. He has written award-winning poetry, published six novels, both traditionally, through WordFire Press, and independently. He has received endorsements from Michael R. Collings, who was named Grand Master at the 2016 World Horror Convention, from Paul Kane, award-winning and international bestselling author of over 100 books, from the late Mike Resnick, who holds the record for Hugo Award Nominations, from D. J. Butler, author of Witchy Eye, and has received praise for his books from Kirkus Reviews, Readers' Favorite, and The Book Commentary. His novel, Folder, was an award-winning finalist in the Book Excellence Awards and International Book Awards.
His crossover epic fantasy/sci-fi quartet, The Ydron Saga, which consists of Awakening and its prequel trilogy, Thought Gazer, Foretellers and Triad, are published by WordFire Press. In September 2019, in Los Angeles, at the International Latino Book Awards, his novel, el Despertar, Awakening's Spanish translation, was awarded two silver medals.
To learn more, please visit: http://www.raymondbolton.com/
Connect with Raymond Bolton on Social Media
https://www.instagram.com/raymondboltonauthor/
https://www.goodreads.com/author/show/7690905.Raymond_Bolton
https://www.facebook.com/RaymondBoltonAuthor
Media Contact
Company Name: Author News Network
Contact Person: Media Relations
Email: Send Email
Country: United States
Website: authornewsnetwork.com