Alps Machine: The Pioneers of Advanced Liquid Packaging Solutions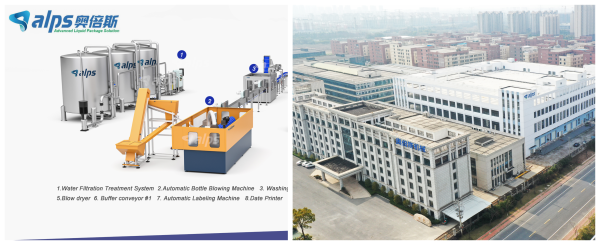 JIANGSU, CHINA – May 12, 2023 – Alps Machine, the leading provider of Advanced Liquid Packaging Solutions (ALPS), is revolutionizing the industry with its cutting-edge machinery and customized service. The company's commitment to safety, energy efficiency, and superior service has made it the preferred choice for customers globally.
Established in 2011 in Zhangjiagang, Jiangsu Province, Alps Machine has grown exponentially, covering an area of 15,000m2 with a standard workshop of 12,000m2. The firm is dedicated to being the world's most competitive supplier of liquid packaging machinery. This commitment, coupled with its innovative solutions, has propelled the company to the forefront of the industry.
Alps Machine offers a comprehensive range of products including water treatment systems, mineral water filling machines, alcoholic drink filling machines, aluminum can filling machines, labeling machines, packing machines, and much more. Their complete production lines cater to various sectors such as carbonated soft drinks, juice, gallon water, and PET bottle blowing, as well as injection molding.
"We pride ourselves in providing advanced, efficient, and safe solutions to our clients," said Jay, the media contact for Alps Machine. "Our focus on beverages, beer and wine, oil and condiments, and household chemicals, enables us to offer diverse, tailored solutions to meet our customers' unique needs."
Besides offering an impressive array of machinery, Alps Machine also provides superior and fast service to its customers. The company's dedication to its clients is evident in its customized services, meeting every customer's unique needs effectively and efficiently.
The company's commitment to innovation is apparent in the images attached, showcasing their state-of-the-art machinery and advanced production lines. Alps Machine is dedicated to continuous improvement and innovation, ensuring they remain at the cutting edge of the liquid packaging machinery industry.
For more information on Alps Machine and their advanced liquid packaging solutions, visit their website at https://www.alps-machine.com/. For media inquiries, please contact Jay at [email protected].
About Alps Machine
Alps Machine is a leading provider of advanced liquid packaging solutions. Founded in 2011 and located in Zhangjiagang, Jiangsu Province, the company is dedicated to providing safe, energy-saving, and efficient equipment for the liquid bottling and packaging industry. Alps Machine offers a comprehensive range of products and services to meet the unique needs of customers across various sectors.
Media Contact
Company Name: Alps Machine
Contact Person: Jay
Email: Send Email
Country: China
Website: https://www.alps-machine.com/