Dr. Nathan Goodyear Identifies the SARS-Cov-2 Virus As a Cancer Causing Pathogen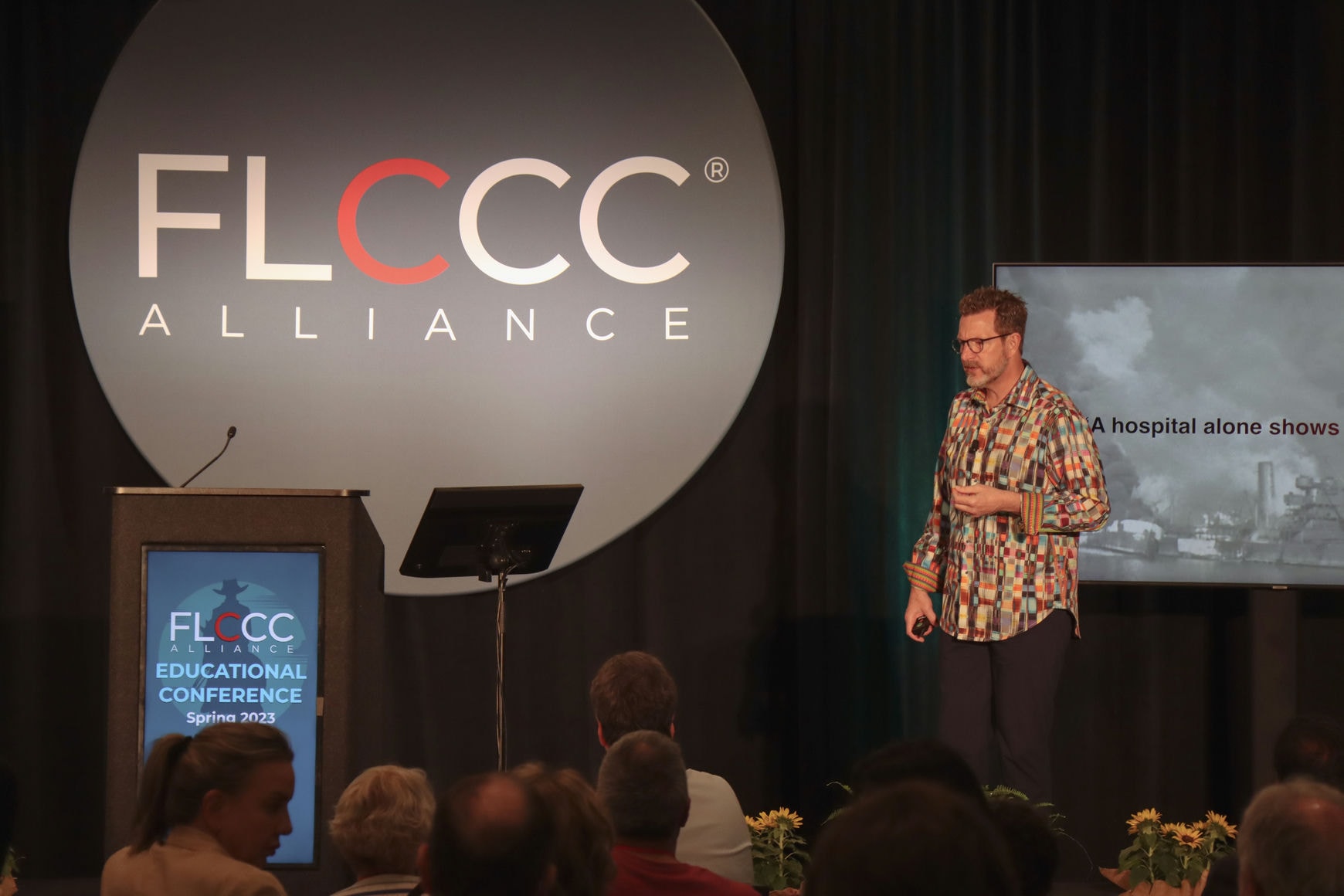 Goodyear, Medical Director at Brio-Medical Cancer Treatment Center, Highlights Connection Between COVID-19 and Cancer in Presentation at FLCCC Conference, In Preparation for a Cancer Pandemic
Scottsdale, Arizona – May 11, 2023 – On April 28th and 29th, the FLCCC Conference brought together a diverse group of experts from around the country, who shared their knowledge and insights regarding the last three years of the pandemic, including its impact on disease, Americans, and individuals around the world. Some of the featured speakers included Dr. Paul Marik, Dr. Pierre Kory, Dr. Flávio Cadegiani, Dr. Hector Carvallo, Dr. Aseem Malhotra, and Dr. Mobeen Syed.
The conference also focused on exploring the connection between the virus and cancer, which proved to be a particularly informative and important topic. Dr. Nathan Goodyear, medical director at Brio-Medical Cancer Treatment Center, discussed the connection between COVID-19 and cancer in general, and what the long-term implications may be for those with cancer, in remission from cancer, and those not diagnosed with cancer but could be at risk in the future.
At this year's FLCCC Conference, entitled "Emerging Approaches to Treating Spike Protein-Induced Diseases," Dr. Goodyear's presentation held several "truth bombs" regarding COVID-19 and cancer that are not being widely discussed. These include the following:
The SARS-Cov-2 virus is an oncovirus – a cancer causing virus.

Evidence links COVID-19 spike proteins, whether by injection or infection, to cancer — and worse — metastasis. The evidence also connects the dots of the exact mechanism.

Evidence links the condition of long-COVID to cancer. The evidence also involves the mechanisms of "how."

Cancer is the next pandemic.

Research points to a legacy of cancer — "Transgenerational Inheritance of Pathology."

There is hope through prevention, monitoring, and early intervention.
"Taking care of patients with cancer is what I'm supposed to be doing, but when I was on stage giving that lecture, I felt a new purpose that really invigorated me and it showed at least something that I'm supposed to do; speak truth and be bold as you do it," said Dr. Goodyear. "COVID-19 and cancer is something that nobody is speaking about, and definitely nobody is speaking the truth if anybody is speaking about it."
An essay published in 2021 by authors Geetanjali Saini, PhD and Professor of Cancer Biology at Georgia State University Ritu Aneja, proposed that long COVID‐19 may predispose recovered patients to cancer development and accelerate cancer progression. This hypothesis was based on growing evidence of the ability of SARS‐CoV‐2 to modulate oncogenic pathways, promote chronic low‐grade inflammation, and cause tissue damage. As more research is done to discover the effects of the pandemic and its link to cancer, Dr. Goodyear will continue to bring awareness to this phenomena through fact-based discussions surrounding the latest findings in cancer research.
About Dr. Nathan Goodyear
Dr. Goodyear is a natural, holistic, and integrative expert in the cancer field. He is the medical director at Brio Medical, a holistic, integrative cancer healing center in Scottsdale, Arizona. Dr. Goodyear received his Bachelor of Arts from Louisiana Tech University and his Doctor of Medicine from LSU Health Sciences Center. He is Board Certified in Obstetrics and Gynecology and served as the Chief Resident in Obstetrics and Gynecology at the University of Tennessee. Dr. Goodyear is a Fellow in Functional and Regenerative Medicine, is a medical Advisor for NEO7 Bioscience, and has been named as the President of the North American Society of Laser Therapy Applications (NASLTA).
About Brio-Medical
Brio-Medical is an alternative cancer treatment center and immune recovery facility offering advanced, research-based integrative medical treatments focused on natural and holistic treatment of all types of cancer. We offer comprehensive and personalized treatment plans that target each patient's specific needs utilizing an optimal combination of evidence-based natural, holistic, and integrative therapies, as well as the latest in new treatment advancements from around the world. If your current treatment plan is holding you back, or simply not working – come see us and let your healing begin.
Brio-Medical uses an integrative approach to treating cancer and co-existing chronic illnesses. We combine evidence-based conventional, integrative, and alternative modalities and treatments to optimize each individual's biological recovery, performance, and healing. We offer the latest integrative clinical research and treatments from the industry and the world to our clinical staff and patients. Cutting-edge science drives our treatment programs.
We take a holistic approach to healing. We treat the body, mind, and spirit to treat each patient on an individual level with our personalized, integrative medical protocols. A healthy immune system is the cornerstone of well-being. A healthy body does not suffer from disease. Our mission is to stimulate the full capacity of the body to heal itself.
Media Contact
Company Name: Brio-Medical
Contact Person: Audrey Boyce
Email: Send Email
Country: United States
Website: www.otterpr.com