Bozeman Welcomes Return of Professional Fly-Fishing Guides after Argentine Adventure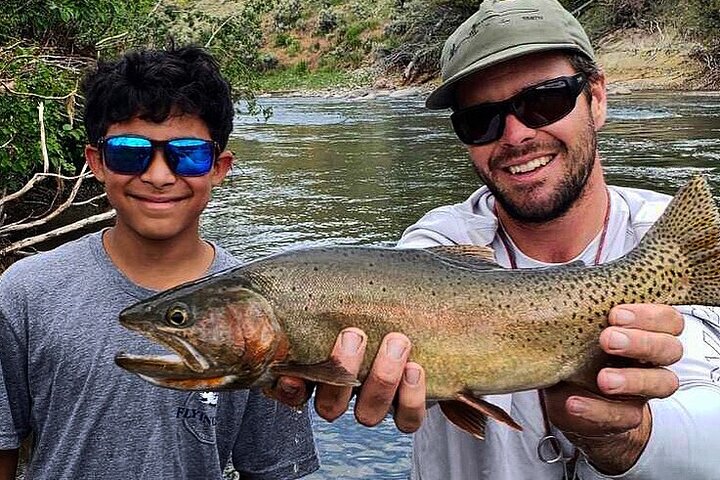 World-Class Fly Fishing Adventures Await in Montana's Pristine Rivers and Yellowstone National Park
As summer approaches, the renowned professional fly-fishing guides from Yellowstone Fly Fishing Co. are returning to Bozeman, Montana, after spending the winter guiding fishing trips in Argentina. These seasoned experts are eager to share their international expertise and help both locals and tourists make the most of the upcoming fly-fishing season in Montana.
Yellowstone Fly Fishing Co., based in Bozeman, is well-known for offering guided fly-fishing trips throughout the Yellowstone and Big Sky areas. In a bid to expand their horizons and hone their skills, the company's professional guides ventured to Argentina during the winter months to provide fishing enthusiasts with memorable experiences in the South American country.
The guides spent their time in Argentina exploring its diverse waterways, learning new techniques, and gaining invaluable insight into fly fishing in diverse environments. These newfound skills are expected to enhance the already exceptional services provided by Yellowstone Fly Fishing Co. during Montana's summer fly fishing season.
In an interview, the company's lead guide, Jake Pappas, expressed his excitement about returning to Montana after the Argentine adventure. He said, "Our time in Argentina was truly an enriching experience, as it allowed us to expand our knowledge and explore new fishing techniques. We're thrilled to be back in Bozeman and can't wait to share our expertise with local anglers and visiting enthusiasts alike."
With a focus on delivering memorable fishing adventures, Yellowstone Fly Fishing Co. provides both drift boat style float trips and walk wade trips to cater to every angler's preference. These trips cover the renowned rivers and creeks of Yellowstone National Park, ensuring a picturesque and thrilling experience for all participants.
Drift Boat Trip: Anglers can enjoy the comfort of a drift boat while floating down the stunning western rivers, casting for trout amidst breathtaking scenery.
Walk Wade Experience: Ideal for those who prefer a more immersive experience, the walk wade trips can be tailored to accommodate any ability level. Whether it's a hike into the backcountry or fishing water closer to the truck, the professional guides at Yellowstone Fly Fishing Co. are dedicated to providing a memorable experience.
Boat Experience: For those who love the thrill of exploring vast lakes, the company also offers guided fly-fishing adventures via motorized boats on the picturesque lakes of Yellowstone.
Happydaisy219, a satisfied customer who reviewed the company on TripAdvisor, shared his excitement: " Yellowstone Fly Fishing Company and Tucker Gosda, my guide and one of the owners, were the best part of my Montana trip. After three years of unsuccessful fly fishing, I hired Tucker to take me fishing on the Yellowstone River inside YNP. All I can say is, I caught a BUNCH of Yellowstone Cutthroat trout and learned SO many things about technique, it gave me a new passion for the sport. Tucker is patient, extremely knowledgeable, a fantastic teacher and funny! He made my day absolutely perfect. Learning the hows and whys of casting, different uses for various flies, all about drift, where to scout for fish….you couldn't get a more professional fly fishing guide in all of the land! He's the best! My advice? Book two trips, because once you learn from him, you're going to want to go again and catch even more fish!"
The return of the experienced guides from Yellowstone Fly Fishing Co. will undoubtedly be welcomed by anglers seeking an unforgettable fly-fishing experience in the region's pristine waters.
For more information about guided fly fishing trips in Bozeman and the surrounding areas, visit Yellowstone Fly Fishing Co.'s website at https://www.yellowstoneflyfishingco.com/.
Media Contact
Company Name: Yellowstone Fly Fishing Co
Contact Person: Jake Pappas
Email: Send Email
Country: United States
Website: https://www.yellowstoneflyfishingco.com/