Taconic Innovations Foundation Collaborates with "The Golden Child" to Host a Meet and Greet with the Elijah Hughes Foundation
New York-based non-profit, Taconic Innovations Foundation, announces plans to host a meet and greet in collaboration with the "Elijah Hughes Foundation" with NBA player Elijah Hughes popularly known as "The Golden Child"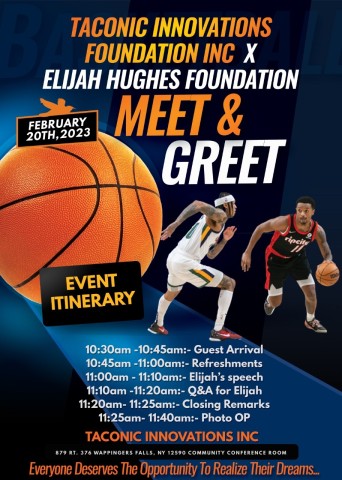 It is a partnership of two institutions passionate about the betterment of society as Taconic Innovations Foundation hosts a meet and greet with the Elijah Hughes Foundation. The event will feature the talented Elijah Hughes, an American professional basketball player, nicknamed "The Golden Child."
Millions of people in different parts of the world face challenges that make it difficult to get the best from life. It is even more challenging for people living with disabilities. A good number of initiatives have been developed by government institutions as well as NGOs to alleviate the suffering of such persons. The situation is not any different in New York and other parts of the United States, which underlines the impact of Dr. Mathias Oni-Eseleh and the rest of the team at Taconic Innovations Foundation to highlight the plight of children and adults with disabilities.
Taconic Innovations Foundation provides services for children and adults with disabilities, with over two decades of offering individuals the resources to realize their dreams. The organization began hosting events inviting stars similar to Make A Wish, but this time, with children and adults with disabilities. The goal is to give individuals with disabilities hope that anything is possible and Taconic Innovations Foundation has chosen Elijah Hughes Foundation as its partner to host the next event featuring Elijah Hughes.
Elijah Hughes is a local resident who starred for Syracuse University Orange. The 24-year-old professional basketball player has shown that anything can be achieved the with right mindset. His amazing career includes playing for the Utah Jazz, Salt Lake City Stars, and Portland Trail Blazers. Elijah identifies with the plight of the needy and the upcoming meet and greet further substantiates this claim.
Millions of Americans suffer from disabilities and do not have an opportunity to meet athletes, movie stars or celebrities. The goal of Taconic Innovations Foundation with the meet and greet is to bridge this gap, spread light on children and adults with disabilities, and give these individuals hope for a better life.
To learn more about the meet and greet as well as other initiatives by Taconic Innovations Foundation, visit – https://www.taconicinnovations.com/.
Media Contact
Company Name: Taconic Innovations Inc
Contact Person: Dr. Mathias Oni-Eseleh Sr
Email: Send Email
Phone: +1 845-296-1042 EXT 3104
Country: United States
Website: www.taconicinnovations.com