Life MC – A Vanilla Minecraft Server with Vivecraft VR Support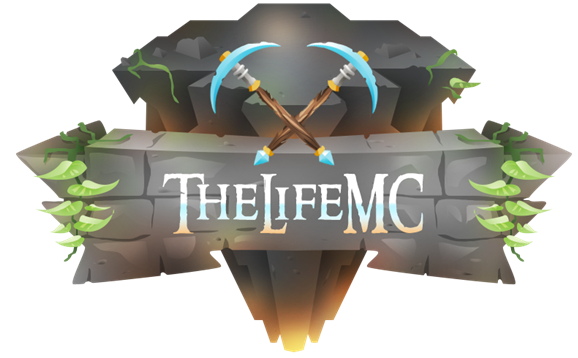 The Life MC is a Vanilla Survival Server with VIVECRAFT VR SUPPORT Realistic Seasons Balanced Economy and Shop Land Claiming 100 Ranks To Level Through Full Coverage Land Protection MCMMO Skills/Abilities Chatting Emotes Advanced Enchantments 250+Enchantments Many Other Game Enhancing Features.The Life MC has been running since 2017 and has been reforged multiple times to create a one of a kind Survival experience, all while keeping true to the Vanilla aspects of Minecraft Java19.2.
With a massively active community of over 500+ Members, TLMC is the place to make home. The countless Biomes provided by the Terralith Datapack combined with multiple loot enhancing plugins create a brand new experience with every step you take. TLMC has 100s of quests and an Epic Enchantment Shop right at spawn with the most flawless and detailed enchantments brought to the minecraft world. You will never have any trouble making money on TLMC with such a flourishing economy simply by either mining or going to battle with various mobs with custom features. TLMC is not just any minecraft server. TLMC is home.
IP To Connect: play.thelifemc.org
Discord: https://discord.gg/nnVFyEQVe7
What is a Minecraft Server?A Minecraft server is a player-owned or business-owned multiplayer game server for the 2011 Mojang video game Minecraft. Players can play minigames and interact with other Minecraft players. Players can also start their own server either by setting one up on a computer using software provided by Mojang, or by using a hosting provider so they can have their server run 24/7.Despite existing for over a decade,
Minecraft servers remain popular as ever. Most servers have a friendly, active player-base along with awesome plugins and events to enjoy. If anybody ever needs help on the server they can contact a staff member and they will help you as soon as they can.Minecraft servers allow players to play online or via a local area network with other people.Internally, the game runs a server for single-player games, this was done in order to make the single player game experience consistent with the multi player experience and make it so that changes made to the game such as bug fixes apply to both single player games and multi player games.
Media Contact
Company Name: Minebrowse
Contact Person: Media Relations
Email: Send Email
Phone: 2033018294
Country: United States
Website: https://minebrowse.com