How to increase the SMT machine placement accuracy?
SMT machine in the use will be according to our own program set operation steps for placement and production tasks, we in order to better let the SMT machine to carry out accurate placement, we need to mount the machine to adjust, mainly adjust the following 3 points.
1. Mounter placement calibration:
For the mounter Z axis and R axis angle need to carry on the calibration work. So that no matter which kind of mount way, which kind of PCB board can realize the accurate mount way, for the angle and position aspect also can accurately set after calibration, help to improve the accuracy of the mount position, and reduce the material loss.
2. Pick and place machine mount positioning:
In the positioning, we need to use the mounter positioning system with Mark camera positioning, in the process of using the mounter through the camera automatic scanning function, subsequently to want to carry on the placement direction position on the precise positioning, this also can to mount the accuracy.
3. The mounter placement adjustment.
We can adjust the placement machine according to their own needs, so as to achieve efficient production, placement precision, because the placement machine program has set a lot of intelligent functions, such as automatic replacement nozzle, automatic width adjustment function, cooperate with each other to be able to improve the placement machine production efficiency, save time.
NeoDen pick and place machine features
1. Equips double mark camera + double side high precision flying camera ensure high speed and accuracy, real speed up to 13,000 CPH. Using the real-time calculation algorithm without virtual parameters for speed counting.2.The magnetic linear encoder system real-time monitor the machine's accuracy and enables machine to correct error parameter automatically.3.8 independent heads with fully closed-loop control system support all 8mm feeder pick up simultaneously,speed up to 13,000 CPH.4.Raise PCB automatically, keeps PCB on the same surface level during placement, ensure high accuracy.5.Mouting height Up to 16mm, precision design and stable performance.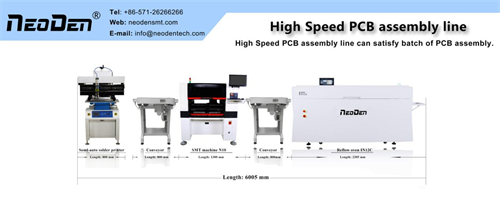 Media Contact
Company Name: Zhejiang Neoden Technology Co., Ltd.
Email: Send Email
Phone: 86-18167133317
Country: China
Website: https://www.smtneoden.com/