ZT Club talks to PER CMO RAYMOND: Looking forward to the value vision of PER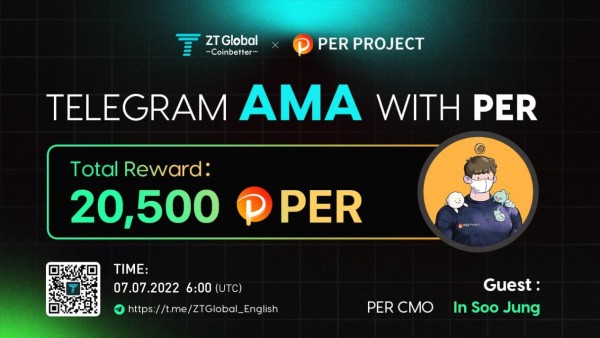 At 6:00 on July 7, Singapore time, PER CMO RAYMOND was a guest at ZT Club, sharing PER PROJECT with users and looking forward to the value prospect of PER.
At the beginning of the live broadcast, PER CMO RAYMOND introduced the basic information of PER PROJECT to users. PER PROJECT is a digital asset ecosystem co-created with users. The vision is that as the PER token continues to grow as a pivotal point in the PER ecosystem, the token gradually becomes a primary digital asset for real-life payments as well as for exchanging and storing value. A large number of developers and management teams advance the project by reflecting the opinions of users through Agora, the special DAO system of the PER project. We are serving NFT exchanges and KlayMint intends to build a strong digital asset community. The community is currently in the process of a massive update, and PER PROJECT operates based on feedback from users.
When asked about the product route of PER PROJECT in the next 6-12 months, RAYMOND said, "We have been operating KlayMint, an NFT exchange, and cic community, a blockchain community. To create a more solid PER coin economy structure and a stronger business model, the existing cic community has been terminated and is currently in the process of renewal. It will probably take more than 6 months to complete because of its large-scale and important updates. It will create a very strong community effect and become a community platform that can innovatively improve the economy of PER coin."
Klaymint is an NFT marketplace where users can easily, quickly and cheaply trade various NFTs . At present, KlayMint is still continuously updating while maintaining the service. It will enter the KLAYMINT 2.0 phase in about 6 months. This will allow anyone to easily issue NFTs using various options on the website, and the trading interface will be significantly upgraded. KlayMint's strengths are staking, mixing, etc. It also shows creativity and its features make it stand out from other exchanges thanks to the wide range of options that are constantly being added. KlayMint is also the first NFT exchange developed in South Korea. Users can get general information about the PER ecosystem, communicate and exchange information with the community on the official website of PER PROJECT and the official Telegram channel. So far, PER has been listed on Klaytn-Chain DEX's KlaySwap and the global trading platform ZT.
The goal of PER PROJECT is to develop into a strong ecosystem based on the PER token issued by Klaytn. PER tokens can be obtained by participating in our ecosystem services or by purchasing them on exchanges. For example, if a user buys a PerFriends NFT card and stakes it on the Klaymint website, PER is rewarded. Users will also experience various S2E features soon as the CIC community updates and re-releases. Our projects are constantly expanding and our presence in the market is slowly increasing. It will be a fulfilling experience as users will be able to feel the growth of the project through participation, please stay tuned.
What sets PER tokens apart from other similar projects is that PER PROJECT is a project that advocates partial DAO and is actively developed/operated. Most meme coins or DAOs are part of an initiative that is difficult to implement because of their structure, where meaning is created only from what many people have, or where the 100% DAO system decides the project's intention. But, because of our management and developers working on the project with the introduction of a partial DAO system, we can expand the ecosystem and the user pool more realistically and reliably. In our project, we are working on transforming it gradually into a DAO project by changing the acceptance of DAO and governance every time the project moves to a specific STEP.
When asked about the ecological planning and community management of PER PROJECT in 2022, RAYMOND said excitedly, "It is time to intensively strengthen the fundamentals of the project by developing Klaymint and the coin community service, PER Project's DAO, and also the economic system. Despite poor market conditions, we can still constantly develop it. We will continue to develop the project until we are back in a good market. I think by that time, many users will have positive feedback about our projects by then. There are indeed a lot of projects that will get lugged when the market goes down. Consequently, I am quite disappointed about the undervaluation of our project. We will always update the status of the project and ensure active community management. Besides that, the CM and ambassadors are also vital for ensuring smooth communication. One of the unique features of our project is the PER ambassador program. We will be giving out particular rewards to ambassadors every month. Their performance is determined by how well they promote, manage, and expand the PER Project. Users will evaluate the performance of the ambassadors and from there the ambassadors will get the corresponding amount(reward). Therefore, the more effort they make, the more rewards they get in return. We are now recruiting Global Ambassadors too."
RAYMOND believes that PER PROJECT's native token, PER, plays an important role in the construction of the entire PER ecosystem. It is used by the PER Project's DAO system and used for various options, including mixing and staking in KlayMint. "Super Community" is an advertising service platform and a coin community website still in development, using PER tokens as a splendid. In future governance, PER tokens will also be used to influence the PER ecosystem.
Next, PROJECT introduced the application scenarios of the PER token to users. With the development of the PER token ecosystem, the value of the key token PER token increases. When the platform for KlayMint develops, some of the demand for PER is burned and this causes the PER value to increase continuously. If more options related to NFT are developed, the usage and burning model for PER coins will increase. Besides KlayMint, the demand and burning of PER for the service platforms that join the PER ecosystem will increase.To create and activate the blockchain-related business in our ecosystem, the incubating system is introduced and operated so that the users, foundation, and governance can coordinate the system in harmony. Through this, demand for PER will increase as predicted.
PER has now been listed on a number of centralized exchanges and decentralized exchanges, and centralized exchanges have been listed on GDAC. Decentralized exchange, listed on KlaySwap. KlaySwap is becoming an important trading channel, after the listing of ZT, we will also list our projects on other global exchanges and Korean exchanges, the detailed timetable related to the listing will be disclosed after the exchange announcement.
'Our project aims to develop a user-centered digital asset economy ecosystem. In this fast-growing market, VCs are creating a market by investing in a variety of projects.But we want to create an economy where individual users can participate in the market on an equal footing. By creating an economic structure based on PER coins, we aim to influence the ecosystem, and invest in or launch new projects. As a result, part of the DAO system is introduced and expanded. We operate several services ourselves as well. Our DAO system is called 'Agora', a word derived from the ancient Greek square. The direct proportionality of our team's ecosystem service operations will gradually decrease due to the involvement of users and other projects. In that case, a huge interest will be created in the PER coin-based crypto market and community power will arise.' said RAYMOND.
From a technical point of view, PER Project has a lot of operational/technical know-how. Our ecosystem development teams are currently working on the projects. Unique features such as NFT mixing and staking can also be applied in KlayMint. Technology application and capability are our greatest strengths in the market.
Cic community was a community platform that introduced a unique participation compensation system from the existing coin community. We realized that we needed more ways and necessities for utilizing PER as we maintained the cic community. To this end, we have decided to apply the blockchain system more directly to the site by renewing it. In addition to user participation, we are working with influencers on a renewal with directions to produce more meaningful and high-quality content.
In the current roadmap development, PER PROJECT is in the process of updating KlayMint 2.0. KlayMint will increase the convenience of transactions, the use of automation options, and NFT issuance capabilities, and will also be reborn as a more complete platform that supports various transaction coins.
At the end of this AMA, RAYMOND explained to users why PER PROJECT chose to stay in Klaytn. we believed that rather than having the concept of transferring, the mainnet risk could be solved through other chain support. Klayton mainnet is still a fast and inexpensive chain, so at this scale, it's not a bad situation to manage the project.
PER tokens are issued based on Klaytn, a blockchain platform developed by Korean tech giant Kakao. Based on the unremitting efforts of the team, its ecological klaymint, CIC community, Super community, PerFriends, PER wallet, and AGORA are developing smoothly and orderly. We hope that PER PROJECT will realize the grand goal of equal participation of users in the market economy as soon as possible.
【Introduction to ZT Club】
ZT Club is an independent media comprehensive service platform and club operated by ZT Global.
ZT Club mainly integrates blockchain-related content such as project incubation, community integration, activity expansion, and industry education. Committed to promoting the vigorous development of the blockchain industry and building an industry ecosystem. Since its launch, it has invited a number of well-known industry leaders, rookie blockchain projects, capital institutions, popular communities and other guests, and successfully carried out multiple live broadcasts.
In the future, we will continue to bring new traffic, new resources, and new ways to play with the blockchain from time to time in the form of voice, video, and audio.
Media Contact
Company Name: ZT Club
Contact Person: Zoe
Email: Send Email
Country: Singapore
Website: ztb.im