For God's Glory Christian Band Releases Album "Love Worthy of Praise"
For God's Glory Christian Band is, as the name suggests, an alternative contemporary Christian musical group. The band was founded in 2014 and is based in the Town of Newburgh, in the Mid-Hudson Valley region of New York State, in the USA. The band's catalog spans across a variety of musical genres, with their debut album "Sharing Good News," being released in July 2015. They followed that up with the 11-song album, "Love Worthy of Praise," released in 2017. Instrumental remixes of songs from both albums also have been released. In 2018, the band released the 8-song cover album of uplifting traditional Christmas melodies, "Songs of CHRISTmas, Vol. I.'.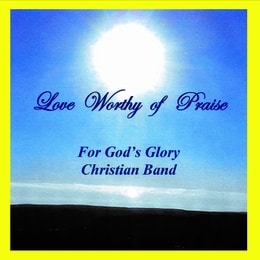 "Love Worthy of Praise," is an album filled with joy, especially the truth of joy. That truth is that no matter what you are going through, no matter how dark the valley, how deep the waters, or in any season – the joy of the Lord is present. Usually the joy we experience comes and goes with the tides. This joy is situational, emotional, and in the flesh.
However, For God's Glory Christian Band seems to teach listeners, that they are not to live in or from this joy. They are to live with the joy of the Lord. This joy is in the Spirit and comes from the Lord. It cannot be swayed easily by any circumstance. The joy is found in Jesus Christ and the salvation through Him, is the confirmation that this band communicates to listeners through their music. Their music and vocals are superb, uplifting and catchy throughout. Sometimes, albums are made up of a few strong radio-ready type catchy songs and then a lot of filler. This is not the case with this one. The tracks are a solid presentation, overall. Sure, there are some songs that are clearly more powerful radio-ready type tracks. Good hooks, worth playing multiple times. But even the lesser catchier songs are worth a second, third, and even fourth playing. The album is indeed a Celebration, with joyful instrumentation and arrangements for those who want to go beyond canned, overly processed, repetitive choruses that go on and on and on, forever.
For God's Glory Christian Band's heart for authentic community in Christ and His church comes out in the awesome "Worthy of Our Praise". This is an amazing track that even tops the others. The beautiful lyrics are filled with truth. It is a beautiful worship song filled with the truths of God's might and holiness and yet His immanence and closeness to us and the truth that He is truly for His children. The anthem expresses the confidence we can have in praising the Lord, and beautifully expresses the epitome of freedom and celebration found in Christ where we can be free from condemnation because He has freed us from all of our sin. All of the other songs on the album are excellent, but this track stands out as one with exquisite music that doesn't give up any opportunity to effectively proclaim the truth of the glory and holiness of Jesus Christ. Leaning on jangling acoustic guitar strums, confident percussion, rich melodic harmonies and a resonant lead vocal, "Worthy of Our Praise" is a beautiful, inspirational track that leads into true celebratory worship. For God's Glory Christian Band is always real, with great music and lyrics in their songs, and this one is exceptional!
For more information visit https://forgodglorycb.com
Watch on YouTube! Click: https://www.youtube.com/embed/95HJHW9KjQ4
Media Contact
Company Name: 3000 Records
Contact Person: Terrance Schemansky
Email: [email protected]
Phone: (888) 463-4336
Address:P.O. Box 285
City: Fenton
State: MI
Country: United States
Website: forgodglorycb.com